So, I am 99.9% packed... as I have mentioned- I leave tomorrow for the NEA conference in DC. I am super excited, but have waited until the last minute to pack (which isn't like me). I always feel like I pack too much, but don't really know what I want to wear until I get there. Then again, I am also afraid I will forget something. My evening has been spent checking and rechecking my bags. Hopefully I'm prepared. Bringing my brand new notebook for the year:
along with my reading scope & sequence to look at during the drive and make my outline for the year as well as this book...
I have tried to read it allll summer. What is wrong with me??? I am sure it is a great book. My goal is to read it and complete an outline on it while I am gone so I am ready for next year.
This is the new planner I bought for next school year at Walmart... Trying to talk myself out of an Erin Condren planner... even when they go on sale for $25 my cheap self just can't spend that kind of $$.
~~~~~~~~~~~~~~~~~~~~~~~~~~~~~~~~~~~~~~~~~~~~~~~~~~~~~~~~~~~~~~~~~~~~~~~~
I have been given a few awards... and I am so thankful that others out there like what I post. The midnight oil is burning, so instead of posting my 15 people now, I will do that later and instead wanted to say thank you and I appreciate your thoughtfulness!
Here are my 7 facts...
1. My name is pretty unique. That is one of the reasons why I haven't 100% shared it with the blogging world. Very few people spell it the way I do.
2. I have always known how to read... since I was about 18 months old (maybe earlier). Reading has always been easy for me- I also can speed read, which freaks people out. Math on the other hand was a struggle. My teachers weren't always the greatest (In fact, my fourth grade teacher told my mom that I read too much... yep! What???). That is one of the reasons why I teach today.
3. I am the first person in my family to graduate... yep. Something I am pretty proud of. About to start working on my EDS. I try and pass my love of learning on to my students.
4. I am rarely satisfied... always looking to improve things or to do something better. Drives me a little crazy sometimes. I also love to organize and go through phases where I get obsessed with things (anyone else do that???)
5. I have been married for 13 years... to my high school sweetheart. Love him!
6. I have 2 cats- no children yet, but my cats are like my babies.
7. I have a beautiful niece and nephew- they are such great kids. My nephew starts Kindergarten this year and I hope he loves school like my niece does.
Check out their awesome blogs!!!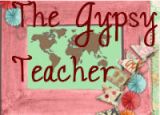 Thank you for my lovely awards!