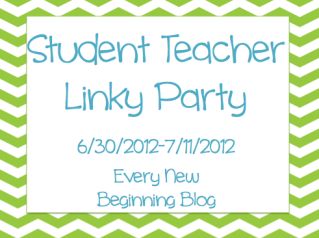 So, I am going to have a student teacher when school starts back. I wanted to find out from you about your experiences. You can share what it was like when you student taught, what it has been like to host a student teacher, questions you may have about having a student teacher, or share any advice you have for future or current student teachers.
~~~~~~~~~~~~~~~~~~~~~~~~~~~~~~~~~~~~~~~~~~~~~~~~~~~~~~~~~~~~~~~~~~~~~~~~~
I have had quite a few student teachers in my time. Some have been truly awesome... and some (one in particular) was a dud. This is my advice for you:
Go into student teaching with an open mind. The best I have seen are ready to share their love of learning with students. Don't be afraid to think outside the books. Pinterest will probably be your best friend. Stay late and get there early. Anticipate what your cooperating teacher may need. Please put your cell phone away (unless you have an emergency) and be actively working with students. If I am up moving around, so should you! Remember- treat this like a job interview. The principal and others are watching you.
I had awesome field experiences and student teaching experiences. My cooperating teachers were patient and took me on when they didn't have to (one of my teachers had a last min emergency and had to cancel and the other one canceled as well). This is one of the reasons why I love having student teachers now! I was able to teach at the same school I student taught at, which is fairly common here. Both teachers have since retired and I hope to someday be half the teachers they were. I student taught 5th grade and 2nd grade. The semester was split in half for each placement.
Many people suggest giving a student teacher their own desk or space in the room... Do you do that? I give them a place to put their things. I also have a hard time leaving the room while they are teaching (which is encouraged here). What else can I do to make my student teacher feel more welcome? She is coming in to help me set up my classroom. She already worked with me some in the spring and was able to meet and work with those students.
Please link back to my blog/this post within your post. I can't wait to read all of the advice and experiences!!! I also have a surprise for one of the link participants!!!
Join up with my linky party.